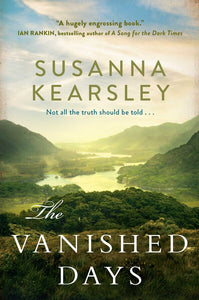 INSTANT NATIONAL BESTSELLERA suspenseful new novel of love, lies, and loyalty, set against the sweeping backdrop of the early Jacobite rebellions, from

 

New York Times

 

bestselling author Susanna Kearsley.There are many who believe they know what happened, but they do not know the whole of it. The rumours spread, and grow, and take their hold, and so to end them I have been persuaded now to take my pen in hand and tell the story as it should be told...

Autumn, 1707. Old enemies from the Highlands to the Borders are finding common ground as they join to protest the new Union with England, the French are preparing to launch an invasion to carry the young exiled Jacobite king back to Scotland to reclaim his throne, and, in Edinburgh, the streets are filled with discontent and danger.

When a young widow, Lily Aitcheson, comes forward to collect her lost husband's wages, former soldier Adam Williamson is assigned to investigate her petition and the veracity of her claim. As Lily tells her story, Adam has only days to discover if she's being honest, or if his own feelings are making him blind to the truth. But sinister figures lurk in the background—is Adam being used as a pawn in an increasingly treacherous game?

Told in dual timelines,

 

The Vanished Days

 is a captivating story of intrigue, adventure, romance—and the bold courage to hope when it seems all hope is lost.