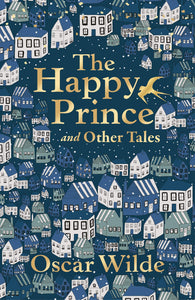 High above the city, on a tall column, stood the statue of the Happy Prince. He was gilded all over with thin leaves of fine gold, for eyes he had two bright sapphires, and a large red ruby glowed on his sword-hilt.

The Happy Prince and Other Tales is a collection of five stories: 'The Happy Prince', 'The Nightingale and the Rose', 'The Selfish Giant', 'The Devoted Friend', and 'The Remarkable Rocket'. The Happy Prince stars the statue of the Prince, who persuades a swallow to deliver his gold and jewels to the poor and needy in his city.

Liberty of London and Faber & Faber both offer peerless quality and unrivalled originality. Liberty of London's patterned, print and floral fabrics are world famous. This partnership brings together the best writers with one of the foremost design teams to create books that will be coveted by artistic shoppers and book lovers the world over.