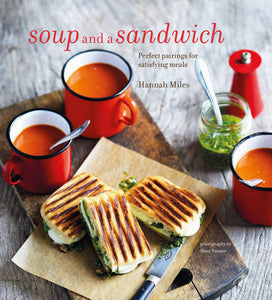 What to have for lunch? On one hand, a bowl of soup is warming and nourishing. On the other, a sandwich is uniquely satisfying. Why not have both! Whether you prefer a delicate broth or a hearty creamy soup, there is something for everyone.
There is nothing better than dunking a sandwich into a bowl of hot tasty soup, but the flavors have to go together. Once you find the magic combination, the meal is elevated from plain and simple to something truly special. This collection brings you over 25 dynamic duos, ideal for sharing with friends or indulging in alone. From favorites in the
Classics
chapter like Roasted Cream of Tomato Soup with a Pesto and Melting Mozzarella Panini to classy Chilled Avocado Soup with a Smoked Salmon and Cream Cheese Bagel in the
 

Indulgent

 
chapter. If you fancy something healthier flip to the
Light

 
chapter to find delights such as Vietnamese Vegetable Pho with a Tofu Bánh mì Baguette. Or if you are in need of something hearty try the Moroccan Chickpea and Apricot 'tagine' Soup with Falafel and Harissa Pita in the
 

Comforting

 
chapter.
With thoughtful twists on basic components like brioche, bagels, focaccia and flatbread, food lovers everywhere rejoice! No more dry bread, boring baguettes, or feeling unsatisfied by uninspiring lunches—think your very favorite meal in soup and a sandwich form.