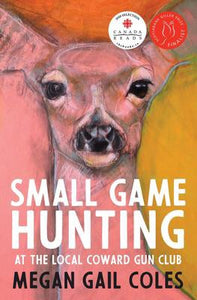 February in Newfoundland is the longest month of the year.

Another blizzard is threatening to tear a strip off downtown St. John's, while inside The Hazel restaurant a storm system of sex, betrayal, addiction, and hurt is breaking overhead. Iris, a young hostess from around the bay, is forced to pull a double despite resolving to avoid the charming chef and his wealthy restaurateur wife. Just tables over, Damian, a hungover and self-loathing server, is trying to navigate a potential punch-up with a pair of lit customers who remain oblivious to the rising temperature in the dining room. Meanwhile Olive, a young woman far from her northern home, watches it all unfurl from the fast and frozen street. Through rolling blackouts, we glimpse the truth behind the shroud of scathing lies and unrelenting abuse, and discover that resilience proves most enduring in the dead of this winter's tale.

By turns biting, funny, poetic, and heartbreaking, Megan Gail Coles' debut novel rips into the inner lives of a wicked cast of characters, building towards a climax that will shred perceptions and force a reckoning. This is blistering Newfoundland Gothic for the twenty-first century, a wholly original, bracing, and timely portrait of a place in the throes of enormous change, where two women confront the traumas of their past in an attempt to overcome the present and to pick up a future.