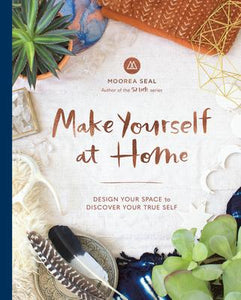 From the author of the hit journals 
The 52 Lists Project
 and 
52 Lists for Happiness,
 comes a home design book that helps you discover how to style your home for a deeper sense of comfort.
Part self-help, part memoir, part décor inspiration, fans of Moorea Seal will love this book for its warm voice and candid exploration of what it means to create a comfortable home. Organized room by room, each chapter delves into what each room represents in our lives, and how we can feel at home in our spaces and at home in ourselves.
What you won't find? Strict design solutions. This isn't about a prescribed style. Instead, 
Make Yourself at Home will
help you find which expression feels most authentic to you through color palates, interior design modes, conversation prompts, essays, approachable DIY projects and more. You don't have to have the perfect life or perfect home in order to infuse your space with your signature spark and feel relaxed in your space.
Each chapter includes:
·      A personal essay from online curator and style maven Moorea Seal.
·      Exclusive looks into her home and office spaces with tips for inspired, mindful living.
·      Two on-trend, beginner-friendly DIY projects to personalize and decorate your home on a budget.
·     Intimate looks into the homes and inspiring lives of a diverse set of creative women, with their best tips and tricks for comfortable, imaginative decor.