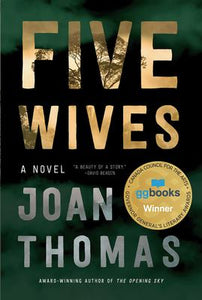 WINNER OF THE GOVERNOR GENERAL'S LITERARY AWARD FOR FICTION
A GLOBE AND MAIL, CBC BOOKS, APPLE BOOKS, AND

 

NOW TORONTO BEST BOOK OF THE YEAR
In the tradition of

 

The Poisonwood Bible

 

and

 

State of Wonder, a novel set in the rainforest of Ecuador about five women left behind when their missionary husbands are killed. Based on the shocking real-life events
In 1956, a small group of evangelical Christian missionaries and their families journeyed to the rainforest in Ecuador intending to convert the Waorani, a people who had never had contact with the outside world. The plan was known as Operation Auca. After spending days dropping gifts from an aircraft, the five men in the party rashly entered the "intangible zone." They were all killed, leaving their wives and children to fend for themselves.
Five Wives
is the fictionalized account of the real-life women who were left behind, and their struggles – with grief, with doubt, and with each other – as they continued to pursue their evangelical mission in the face of the explosion of fame that followed their husbands' deaths.
Five Wives

 
is a
riveting, often wrenching story of evangelism and its legacy, teeming with atmosphere and compelling characters and rich in emotional impact.